In Store Pickup
If possible, we recommend coming inside for an eyeglass fitting. Your optician will adjust the frames to fit you comfortably, and make sure the lenses are positioned correctly in front of your eyes.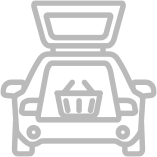 Contactless Pickup
Call the store when you arrive. We'll bring your order out to your car, or meet you at the door.

Delivery
For a $10 fee, have your glasses delivered via UPS or USPS (ground only). Patients who choose contactless pickup or delivery can still get a free eyeglass fitting at a later date.