Children's
Eye Exams $49
What to expect & how to prepare
Proper vision is essential for learning and safety. When children can't see well, they may underperform in school or sports without realizing poor vision is to blame.
A brief vision screening by a pediatrician or at school is not the same as a comprehensive eye exam from an optometrist. Children need a thorough evaluation of their eyes and vision to detect and treat problems as early as possible.
Pediatric eye exams are available at all Wisconsin Vision locations and are performed by a licensed optometrist, not a technician.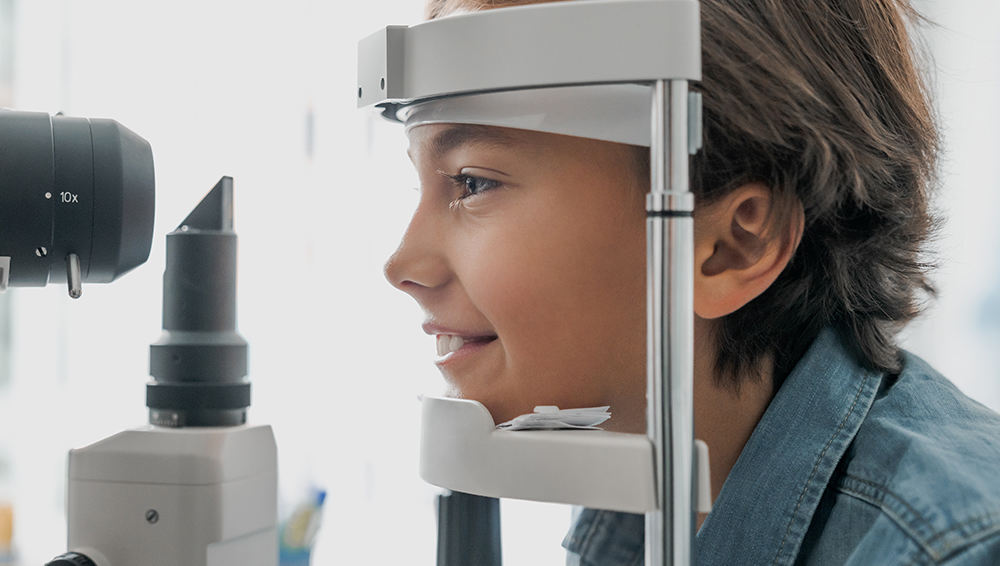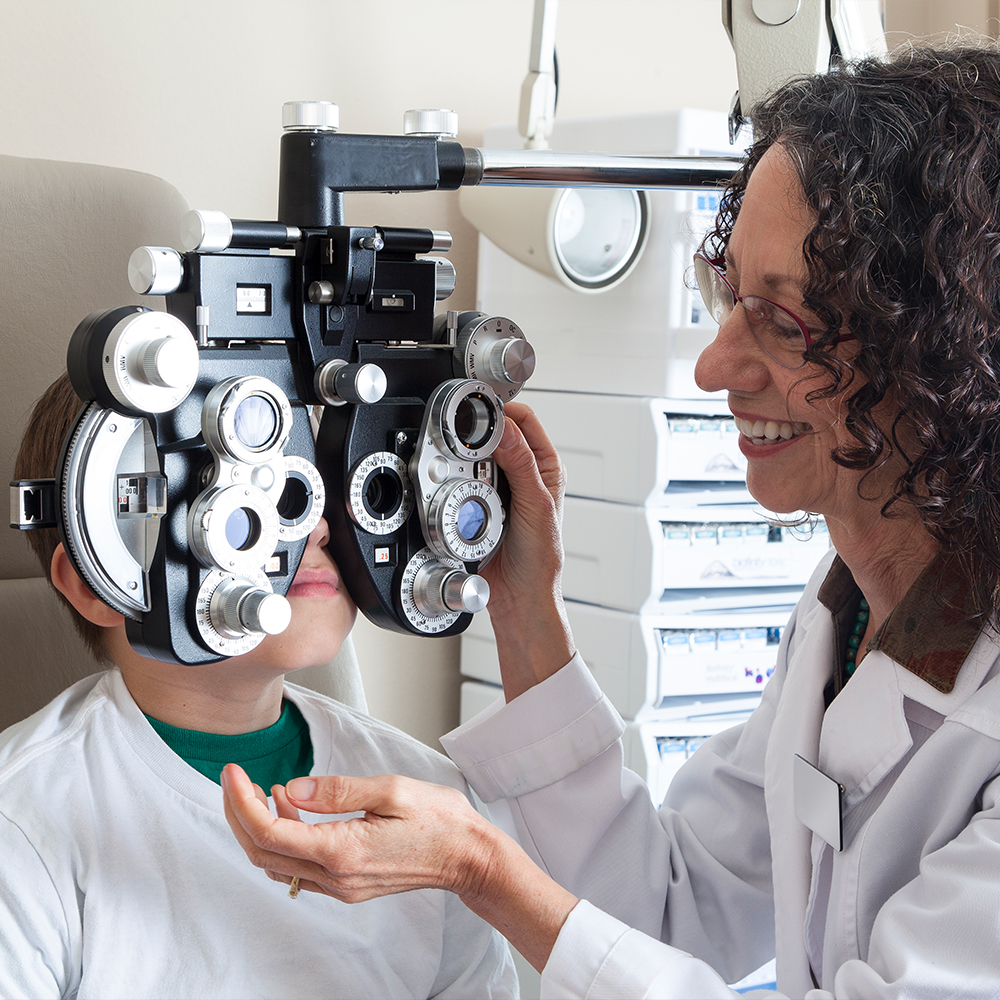 Pediatric eye exam cost
Most vision insurance plans cover the cost of a yearly pediatric eye exam. Our eye doctors accept many insurance and union plans, and we offer free benefit checks. Just call or stop by and we'll let you know what's covered.
Without insurance, a children's eye exam costs $49 at all Wisconsin Vision locations (some restrictions may apply to promotional price, please see offer details). CareCredit is also accepted for eye exams and kids' eyewear at all our stores.
How often kids need their eyes checked
According to the American Optometric Association, an infant's first eye exam should be at 6 months old. Please contact us for a referral for children under 3 years old.
AOA guidelines for kids' eye exam frequency:
Kids' eyes can change quickly as they grow. Regular eye exams ensure eye health and vision development are on track.
| | |
| --- | --- |
| Age | Eye exam frequency |
| 3 years | Toddlers should have their first eye exam at age 3. |
| 5-6 years | Kids should have an eye exam before starting 5K. |
| 6-18 years | Once a year or as recommended by your eye doctor. |
What is tested during a pediatric eye exam
Tests and procedures may vary based on the patient's age, overall health and vision. Your eye doctor will customize the exam to meet your child's needs. In general, we assess many different aspects of pediatric eye health and vision including:

VISUAL ACUITY
For young children who haven't learned the alphabet, eye doctors conduct vision assessment using symbols (like a house, circle, or apple) instead of the standard eye chart.

BINOCULAR VISION
The child wears a pair of 3D glasses while looking at random patterns of dots. This allows the eye doctor to measure how well the eyes work together (eye teaming).
VISUAL FIELD
The eye doctor tests peripheral vision by having the child look straight ahead while they bring their hand in from the side until the child can see it.

RETINOSCOPY
The eye doctor shines a light into each eye and observes the reflection on the retina to look for clouding or refractive errors.

EYE MOVEMENT
The child is asked to follow an object with their eyes so the doctor can observe eye movement.

EYE HEALTH
The eye doctor examines the eyelids, eye area, cornea, iris and lens, looking for any signs of infection or abnormality.

PUPIL RESPONSE
The eye doctor shines a light to test pupil reaction.
Other things your optometrist may check during a child's eye exam:
Lazy eye (amblyopia)
Crossed eyes (strabismus)
Eye misalignment viewing at near distance (convergence insufficiency)
Color vision
Depth perception
Hand-eye coordination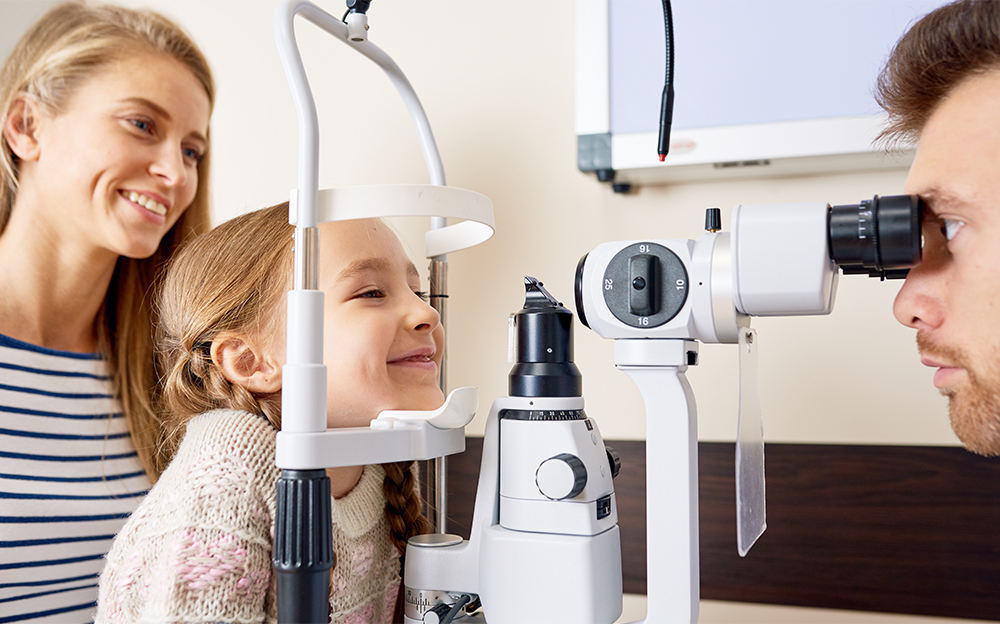 Are kids' eyes dilated during an eye exam?
The American Optometric Association recommends dilating a patient's eyes every year as part of the comprehensive eye exam. Is it necessary? Absolutely. Dilating drops are safe and effective for a child of any age.
However, with our practice, we now take a digital image, with our state of the art Optos® system, which can provide us with more than a 200-degree field of view of the back of the eye. Optomap® retinal exams don't necessarily replace dilation. If the eye doctor finds something in the image, a dilated eye exam may be required for further evaluation.
What are the side effects of eye dilation?
Most common side effects of dilating drops include: light sensitivity, enlargement of the pupil and blurry vision. These side effects typically last 4-6 hours, depending on the type and concentration of the dilation drops used.
If you have any other questions about the tests done during a pediatric eye exam, please contact your Wisconsin Vision. Our doctors of optometry and trained opticians are happy to help.
Preparing for your child's first eye exam
For the parent:
The eye doctor will ask you about your child's medical history before their first eye exam. Be ready to provide information including:
Medications
Medical conditions
Allergies
Family medical history
Your child's primary care physician
If your child wears glasses or contacts, bring them to the appointment. Let the optometrist know if you have any concerns about your child's eyes or vision, or if you've noticed any symptoms such as watery eyes, frequent headaches or squinting.
For the child:
If your child is nervous about getting an eye exam there are things you can do to reduce anxiety and have a more enjoyable visit.
Tell your child when you schedule their first eye exam. It can help to visit the eye clinic ahead of time so they're already familiar with the location on the day of the appointment. You can also bring your child along when you get an eye exam to show them it's painless and important for everyone to do.
Explain the basics of an eye exam in plain language. Tell them they'll be asked to look at different shapes and pictures, and that the doctor will shine a light to look at their eyes.
Encourage your child to ask questions. If you don't have the answer, let them know they can ask the eye doctor questions during the exam. Your child can also bring along a favorite toy or stuffed animal to hold.
After a kids' eye exam:
When the exam is finished the eye doctor will go over the results with you, including any recommended treatments such as glasses, an eye patch or vision therapy. If your child received eye drops during the exam they might have blurred vision or sensitivity to light for the next few hours, which is normal.
Even if your child never complains about their vision, it's important to keep up with routine eye exams. Kids don't always realize it or have the ability to explain when they're having trouble seeing. Detecting vision problems early makes treatment much more effective.
Learn more about comprehensive eye exams at Wisconsin Vision or schedule an appointment online: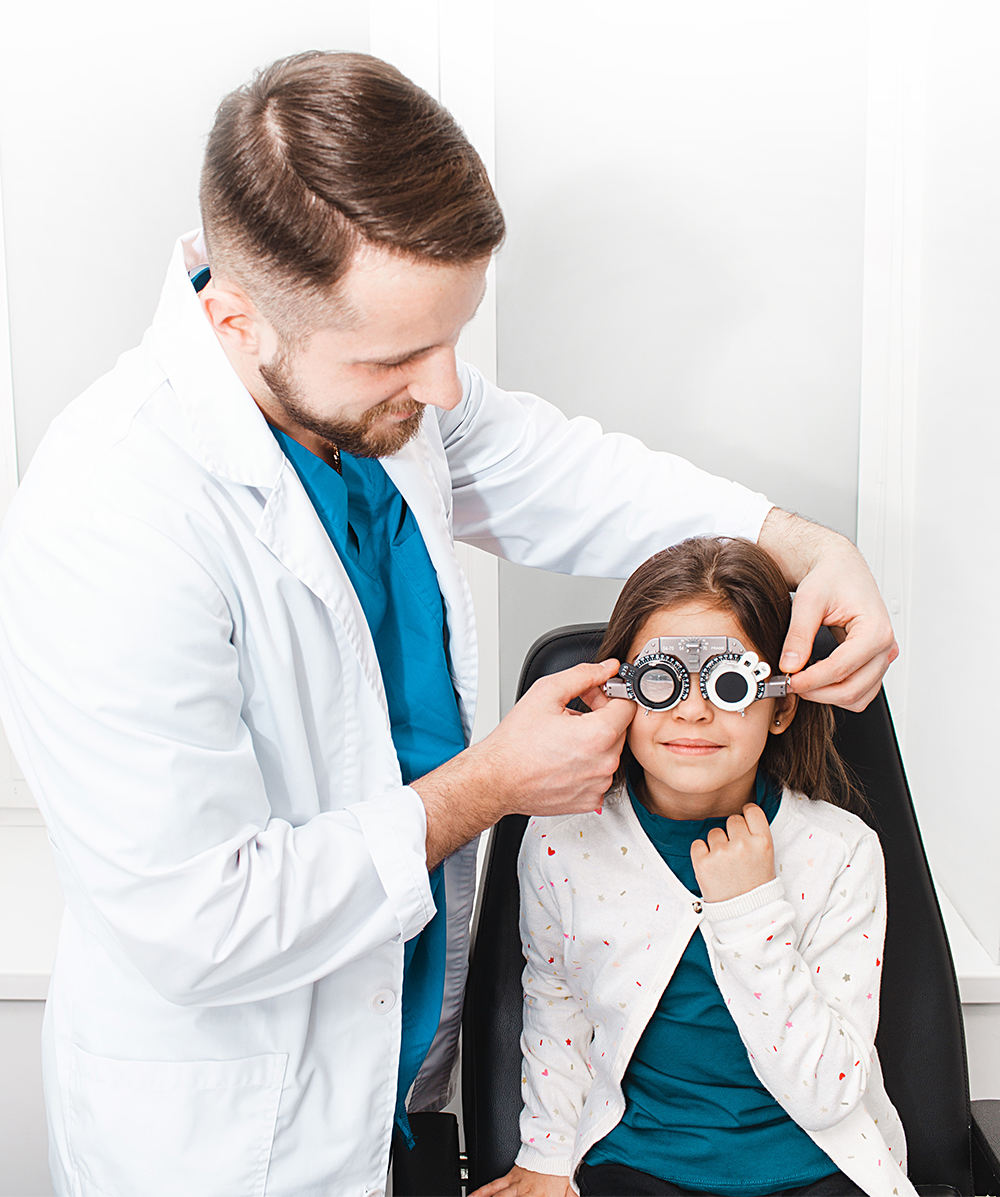 Frequently Asked Questions
Can children have their eye test early?
Yes, if you or your child is concerned about their vision before their next scheduled eye exam, contact us. Staying up to date on vision changes is important to a child's performance in school, sports, or other leisure activities.
Can children's eye vision change?
It is not uncommon for children to need an adjustment to their prescription every year. This can even range from 8-10 months for some children.
Does Wisconsin Vision offer after school eye exams?
Yes, our locations offer after-school hours up until 6:00pm with select locations open until 7:00pm on most weekdays. Schedule an appointment online to confirm an after-school appointment at a Wisconsin Vision location near you.
How much do children's eye exams cost?
Eye exams for children cost $49 at Wisconsin Vision.
How can my child prepare for an eye exam?
Get a good night's sleep the night before the test. Bring prescribed glasses and/or contact lenses. Bring your insurance card or other useful insurance documentation. Prepare to describe any noticeable vision or eye concerns. Get comfortable—getting an eye exam is the first step to improved vision