Accepted vision plans >> Medicare Vision
Wisconsin Eye Doctors Accept Medicare Vision Insurance
Our optometrists take Medicare for specific types of vision care. Not all eye care is covered by Medicare, so it's important to understand how your Medicare vision coverage works – and we're here to help.
According to medicare.gov, Medicare Part B covers specific preventive and diagnostic eye exams:
Eye exams for diabetics – One yearly eye exam for diabetic retinopathy
Glaucoma tests—One yearly test for patients who are at high risk for glaucoma
Macular degeneration tests—Specific diagnostic tests & treatments for patients with age-related macular degeneration
We offer free insurance coverage checks and are happy to explain your vision benefits through Medicare Part B or another type of vision insurance we accept. Just stop by any Wisconsin Vision location or get in touch!
Does Medicare cover routine eye exams and eyeglasses?
No. Only patients who meet the criteria for a diabetes, glaucoma or AMD (age-related macular degeneration) can use their Medicare Part B benefits for vision care.
Affordable eye exams and glasses for seniors
Wisconsin Vision helps make regular eye and vision care affordable for everyone, including patients without vision coverage for routine eye exams and glasses.
Here's how we do it:
Wisconsin Vision has a management relationship with Eye Boutique (IL) and Heartland Vision (IN), making us one of the largest regional eye care chains in the Midwest. We negotiate better vendor pricing from eyewear brands and pass the savings on to you. In many cases, our opticians are able to help private pay patients take advantage of flexible pricing and discounts which may not be available when using insurance benefits.
How often to get your eyes checked after age 65
The AOA (American Optometric Association) recommends yearly eye exams for adults aged 60 and older. You should also see an eye doctor if you notice any vision changes or problems with your eyes.
Older adults need to be aware of several age-related eye disorders with the potential to permanently damage vision, including:
Dry eye
Cataracts
Glaucoma
Diabetic retinopathy
Retinal detachment
AMD (age-related macular degeneration)
Eye diseases can develop without pain and without noticeable symptoms until reaching an advanced stage – at which point permanent vision loss may have occurred.
Yearly eye exams and vision checks can detect and address eye conditions and vision changes before vision loss sets in. Your optometrist can recommend options for treating low vision or vision impairment to improve safety and independence.
Find a Medicare optometrist in Wisconsin
Medicare vision plans are accepted for specific preventive and diagnostic eye exams at all 26 Wisconsin Vision eye care centers, making it easy to find a Medicare vision provider in Wisconsin's largest metro areas: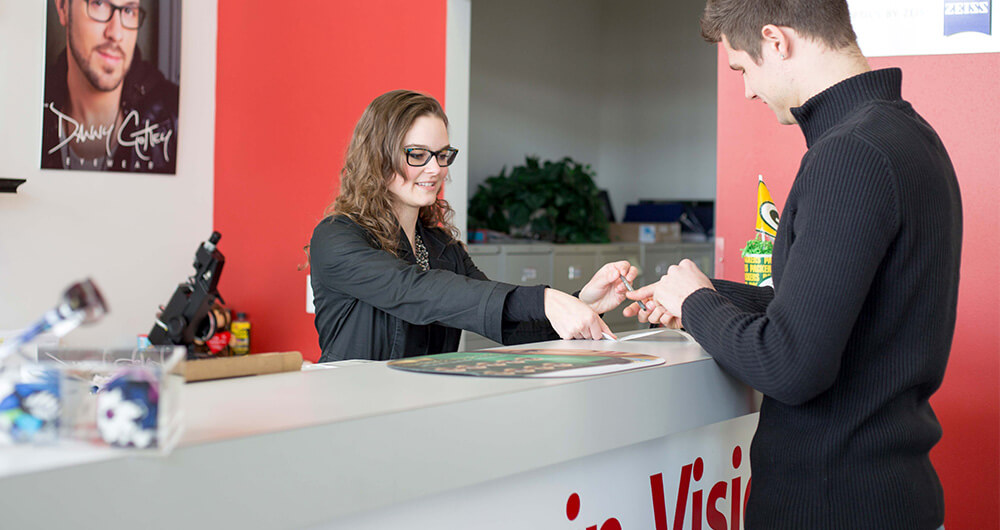 Frequently Asked Questions
What eye care services are covered by Medicare Vision Insurance?
Medicare Part B covers yearly eye exams for diabetics and individuals at a high risk of glaucoma, as well as tests for patients with macular degeneration. Original Medicare does not cover eye exams.
How much does Medicare Vision Insurance cost?
Vision coverage cost depends on whether you have a supplemental plan or Medicare Advantage. Supplemental plan users pay $415 out of pocket on average while Medicare Advantage users pay $331.
How can I make eye care under Medicare more affordable?
Wisconsin Vision is committed to ensuring all patients can receive quality eyecare, no matter their income and insurance coverage. We offer affordable eye exams, discounts on eyewear, and CareCredit acceptance.
How do I find a Medicare Vision Insurance Provider in Wisconsin?
Wisconsin Vision has providers in cities throughout Wisconsin, including Milwaukee, Madison, Green Bay, Kenosha, Racine, Appleton, Waukesha, Oshkosh, Janesville and more. Just bring in your insurance card or information for a free coverage check.