Accepted vision plans >> EyeMed
Wisconsin Vision optometrists are EyeMed vision care providers
Wisconsin Vision eye doctors take EyeMed for eye exams, contacts, glasses, and prescription sunglasses. We accept EyeMed whether you're enrolled in an individual plan or have vision benefits through your employer.
Our eye doctors are in-network EyeMed providers offering comprehensive vision care for adults and children. We also have options for patients without vision insurance.
What does EyeMed insurance cover?
Your EyeMed benefits depend on the specific vision care plan you have. In general, EyeMed vision insurance covers most or part of the cost of:
Does EyeMed cover blue light glasses?
According to their website, EyeMed offers members varying 'blue light solutions' with options as low as $15. The cost of adding blue light protection to your glasses depends on the specifics of your plan.
You can get blue light glasses for men, women and kids at any Wisconsin Vision store. Contact us to learn more about your options about paying for blue light protection with EyeMed vision insurance.
Does EyeMed cover sunglasses?
EyeMed doesn't cover non-prescription sunglasses, but they do offer discounts at in-network providers that can help make corrective or non-Rx sunglasses more affordable.
According to their website, members can get 40% off a complete additional pair of prescription glasses (or prescription sunglasses) or 20% off non-prescription sunglasses once yearly benefits have been used.
Does EyeMed cover glasses and contacts?
Depending on which EyeMed plan you have, it will cover a pair of glasses or contact lenses, but not both. However, there may be discounts on glasses and contacts available to plan members once the covered benefit has been used.
Get a free coverage check for your EyeMed plan
We offer free EyeMed coverage checks to help you make the most of your benefits.
Just bring in your card or have your plan information ready and give us a call. We'll explain your benefits, allowances, discounts, and copays in plain English so you don't have any surprise out-of-pocket costs at your appointment.
We try to help keep your out-of-pocket-costs as minimal as possible. Regular eye exams and updated prescriptions are too important to ignore, and shouldn't break the bank. Our stores also accept CareCredit, flex dollars (FSA) and health savings accounts (HSA) which you can use on their own or in combination with vision benefits.
Where is EyeMed insurance accepted?
EyeMed is accepted at all 26 of our locations in Wisconsin. You can book an exam online or over the phone. Take advantage of our free insurance checks and vision consultations to find the best value!
Find an EyeMed provider in Wisconsin's largest metro areas: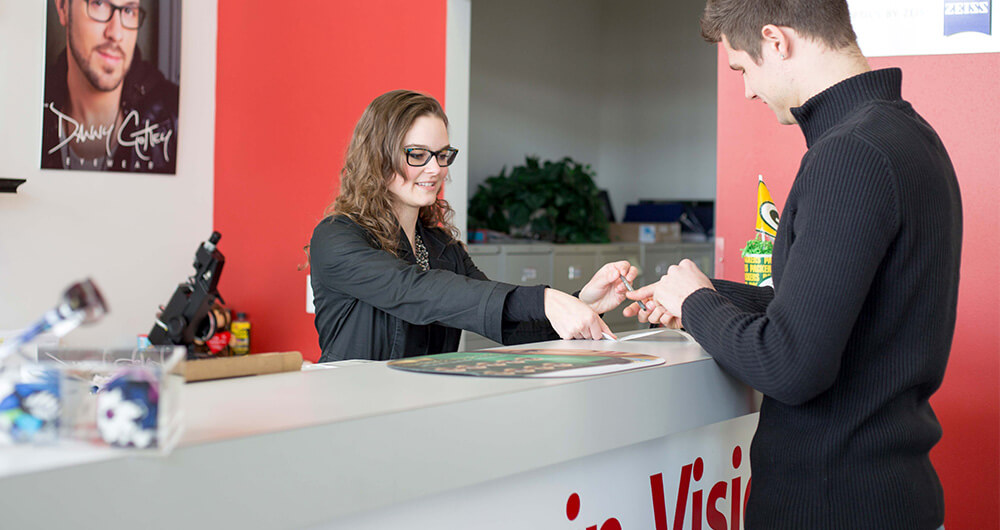 Frequently Asked Questions
What services does EyeMed vision insurance cover?
While services covered vary depending on which plan you have, EyeMed insurance generally covers annual eye exams, glasses, lens treatments like anti-reflective coating and contact lenses. Blue light glasses are available at a discount depending on you plan. EyeMed does not cover the cost of non-prescription sunglasses.
How much do EyeMed plans cost?
EyeMed plans start at $5-$30 a month depending on which option you choose. Copays range from $10-$135 depending on services received, while materials allowances range from $110 to $200.
How do I use my EyeMed benefits?
Using your EyeMed benefits at Wisconsin Vision is fast and easy. Just bring in your card or plan information and we'll be happy to explain allowances, benefits, copays, discounts and any other aspect of your EyeMed plan.
Are EyeMed benefits available online?
You can also use your EyeMed benefits if you want to purchase eyewear online. All you need is your prescription. Shop online at https://www.wisconsinvision.com/C/15/glassesbrands.