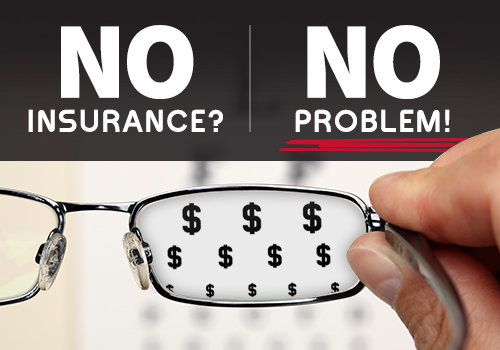 How to control the cost of an eye exam & glasses without insurance

No vision insurance? No problem!
Getting an affordable eye exam and glasses without insurance is simple at Wisconsin Vision. In fact, many of our clients don't have vision insurance and are still able to afford comprehensive eye care and brand name eyeglasses.
Learn the truth about eye care with and without insurance
Many vision insurance plans cover at least some of the costs of eye care in exchange for a monthly premium. You can also buy family or individual vision insurance (these vary in price, often around $15 to $20 per month for an individual).
Even when paying a monthly premium, with many plans you still have to pay part of the cost of your exam, optical lenses, frames, or contact lenses.
We understand how vision plans work, and we give our clients the best possible options and prices for eye exams and vision care, whether you have insurance or not.
Get a free consultation with one of our eye care specialists and we'll take the time to answer your questions and explain your options.
View current sales & promotions
Get the look you want for less cost
Wisconsin Vision stores have a great selection of brand-name glasses and sunglasses including Ray-Ban, Prada, Oakley and many others.
We have locations throughout Wisconsin and negotiate better prices from the leading brands in eyewear, passing the savings on to our clients. Eyeglasses financing through CareCredit is accepted at all Wisconsin Vision locations.
Don't need vision correction? You still need an eye exam
Comprehensive eye exams can reveal undiagnosed medical problems including glaucoma, autoimmune disorders, diabetes and even cancer.
Most adults should have a comprehensive eye exam once every year or two (depending on your age, overall health, and whether or not you currently wear glasses).
Don't let lack of insurance prevent or postpone important vision care. Call or visit the Wisconsin Vision nearest you for a free consultation to get started.
Contact us online or give us a call with any questions about eye exams and glasses without insurance.