Senior
vision care
Affordable eye exams for older adults
For adults over age 60, keeping up with regular eye exams is very important – especially for patients with existing health or eye conditions. Comprehensive eye exams for seniors are performed by an optometrist (not a technician) at all Wisconsin Vision locations.
Request an appointment online or call one of our stores to book your exam: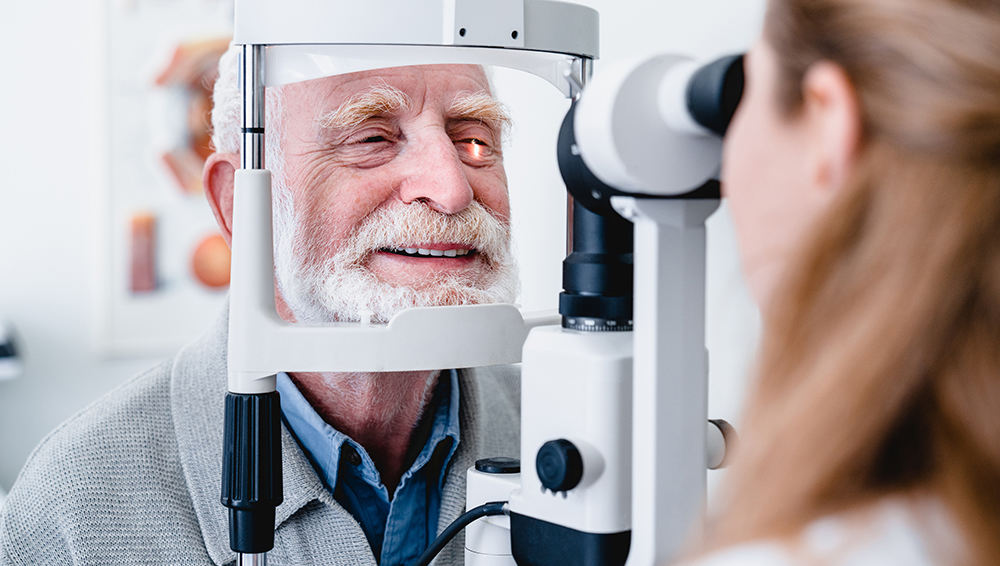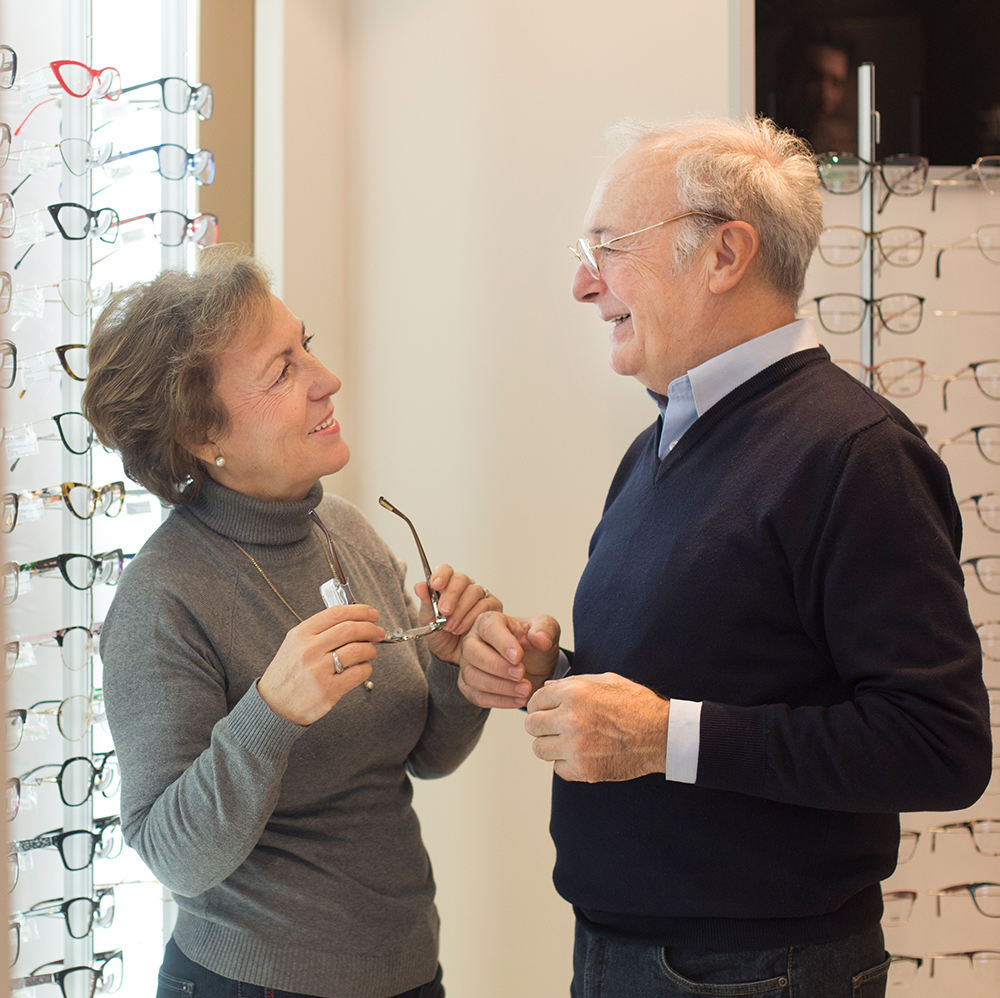 How much is an eye exam for seniors?
For seniors with vision insurance, it's likely your plan covers all or most of the cost of a yearly eye exam. Our eye doctors accept most vision plans, and we're happy to do a free benefits check and explain what's covered. We also take CareCredit for eye exams (among other products and services).
Without insurance, an eye exam costs $49 at all Wisconsin Vision locations (terms and conditions apply to promotional eye exam pricing).
Does Medicare cover eye exams for seniors?
Medicare only covers eye exams for certain patients. If you meet the criteria for diabetes, glaucoma or AMD, you may be able to use your Medicare Part B benefits for an eye exam. Learn more about Medicare vision insurance or call one of our eye care centers for help.
Senior discount
At Wisconsin Vision, seniors always receive 20% off most products and services. (Discount does not apply to contact lenses, or already-discounted items).
We also offer quarterly deals and discounts on eyewear, including glasses, frames, lenses and more. Check out our current promotions or contact your Wisconsin Vision (sometimes we have special in-store offers as well). Terms and conditions apply.
How often should seniors have their eyes checked?
The American Optometric Association (AOA) recommends all adults 60 and older have a comprehensive (dilated) eye exam once a year.
You should also notify your eye doctor right away if you experience eye discomfort or any changes in your vision.
Routine eye exams can catch small eye problems before they turn into bigger (or permanent) ones. Eye exams and Optomap® retinal imaging can also identify other health issues like high blood pressure, high blood cholesterol, and diabetes. It's especially important for older adults with diabetes to keep up with diabetic eye care.
How aging affects the eyes and vision
Many eye conditions and diseases are more common with age. Fortunately, many of them can be prevented or corrected if treated early.
Common age-related vision problems:
Presbyopia is more common the older you get. It happens because the lens of your eye loses elasticity over time, making it harder to focus on things up close.
Dry eye sometimes develops when your eyes don't produce enough tears. Lack of quality tear film causes discomfort and blurred vision. Most adults over 65 have some dry eye symptoms.
Dimmed vision is another common age-related change. You may need brighter light to perform the same tasks you always have, like reading or close-up work.
Common age-related eye diseases:
Age-related macular degeneration (AMD) is the #1 cause of vision loss in adults 50 and older. Symptoms start with blurred central vision. Risk of AMD is highest for adults over 60, smokers, Caucasians, and people with a family history of AMD.
Glaucoma damages the optic nerve, which connects the eye to the brain. As the optic nerve deteriorates it creates blind spots in your field of vision. Glaucoma develops slowly, often without early symptoms or warning signs. Vision loss from glaucoma is irreversible. If untreated, glaucoma can cause total blindness.
Cataracts are cloudy areas in the lens caused by protein buildup, UV exposure, and aging. Cataracts are very common in older adults, and cause symptoms like blurred vision, reduced and/or increased sensitivity to light and color, double vision, and poor night vision. Cataracts are progressive and correctable.
Diabetic retinopathy occurs when the blood vessels in the retina are damaged, leading to vision problems and eventually, possible blindness. The risk of developing diabetic retinopathy increases the longer you live with diabetes. Regular diabetic eye care is essential for patients of all ages living with Type 1 or Type 2 Diabetes.
Schedule an eye exam with a doctor of optometry to learn more about managing your risk for age-related eye conditions.
How your optometrist can help
Many eye diseases have subtle or no symptoms in the early stages. By the time you notice vision changes and see an optometrist, the disease could be at an advanced stage.
The earlier eye problems are diagnosed and treated, the better your chances of protecting your vision. Even if you haven't noticed any new symptoms or difficulty seeing, it's important to keep up with routine eye exams to screen for age-related eye conditions.
Treatment & referrals
As part of eye and vision care for seniors, a doctor of optometry can:
Order lab tests needed to diagnose or treat eye disease
Diagnose and treat glaucoma with topical or oral medications
Prescribe glasses or contact lenses
Provide orthoptic therapy (vision therapy)
If diagnosed with a serious or advanced eye disease you'll be referred to a specialist, such as an ophthalmologist, depending on the level of care required.
Low-vision devices
Some low-vision treatment options include devices and products designed to help people with vision impairment. Your optometrist may recommend:
Magnifiers (hand-held, wearable, or stand)
Video magnifiers (to enlarge, brighten, or increase contrast in video displays)
Miniature telescopes
Text-to-speech readers
There are many different adaptive technologies and products available to help seniors with vision loss maintain independence. Your optometrist can help you understand your options.
Patients may be referred to low-vision rehabilitation services for seniors. Specialized low-vision professionals work with patients to maintain or improve quality of life and independence.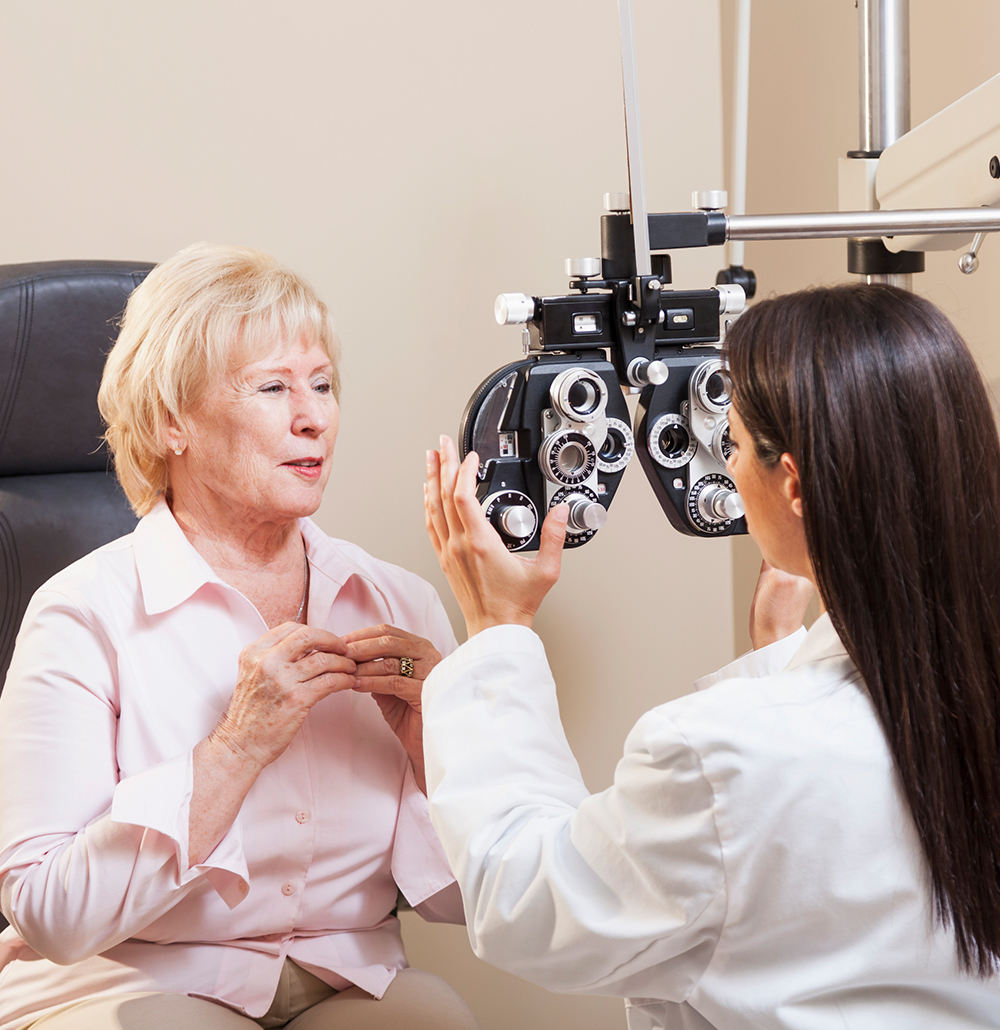 Frequently Asked Questions
How much does an eye exam for seniors cost?
Most forms of vision insurance will cover part or all of an eye exam for seniors. The cost without insurance is <content block> at all Wisconsin Vision locations.
How often should seniors get an eye exam?
The American Optometric Association (AOA) recommends adults 60 years or older have an eye exam once a year.
What is the most common vision problem in elderly adults?
Macular degeneration is the leading cause of vision loss in people 65 years or older. Macular degeneration is the deterioration of the retina, which causes blurry center field of vision.
Does medicare cover senior eye exams?
Medicare will cover eye exams for certain patients who meet the criteria for diabetes, glaucoma, or AMD. You may even be able to use your Medicare Part B benefits to cover an eye exam. Call one of our eye care centers to help clarify what coverages you're eligible for.
Does Wisconsin Vision offer senior discounts?
Seniors who shop Wisconsin Vision services or products receive 20% off. This applies to most products and services, with contact lenses or already discounted items excluded.