Menomonee Falls

Eye Exams & vision testing
Comprehensive eye exams assess eye health, test vision & screen for common eye conditions.
262-251-1900


N85 W16033 Appleton Ave, Menomonee Falls

, WI 53051

Reviews
SCHEDULE AN EXAM
Insurance Accepted
CareCredit Accepted
Store hours
| | |
| --- | --- |
| Monday | 9am - 7pm |
| Tuesday | 9am - 7pm |
| Wednesday | 9am - 6pm |
| Thursday | 9am - 7pm |
| Friday | 9am - 6pm |
| Saturday | 9am - 3pm |
| Sunday | Closed |
Eye exams in Menomonee Falls, WI
Our Menomonee Falls location provides comprehensive eye care for children, adults & patients with special needs. New patients are always welcome.
Eye Exams: $49
WHAT Happens during an eye exam?
Your overall health, previous visits, and current symptoms will determine the specific tests included in your next eye exam. In general, a comprehensive adult eye exam may include:

PATIENT HISTORY
This includes any vision symptoms, eye injuries, medications, or family history of diseases like diabetes or hypertension. Your doctor may also ask about your workplace and routines to screen for environmental conditions affecting your eyes.

VISION TESTS
Eye charts are used to measure visual acuity at near and far distances. Other tests measure depth perception, color vision, peripheral vision, eye muscle function, and how pupils respond to light.

REFRACTION
While you look through a series of different lenses, your eye doctor measures how the lenses focus light. You participate by saying which one of two options gives you clearer vision. This lets your eye doctor refine the lens power you need to properly correct vision problems including nearsightedness, farsightedness, and astigmatism.

KERATOMETRY
A circle of light is focused on the cornea (the clear outer part of your eye) and its reflection is measured. This lets your optometrist measure the outer contour to measure astigmatism and get the right fit for contact lenses.

TONOMETRY
Tonometry is a test to measure your eye pressure. Eyes are continually producing clear fluid that flows into your eyes and drains out. If there's a problem with drainage, pressure can build up and damage the optic nerve (causing glaucoma). In this test, an instrument releases a small puff of air as a sensor measures the corresponding indentation on the eye's surface.

EYE MOVEMENT TESTS
Your eye doctor may perform tests to assess how well your eyes are able to change focus and move/work in unison (eye teaming). Evaluating how your eyes move can let your optometrist identify problems compromising your focus or binocular vision.

DILATION
Eye drops are used to dilate the pupils, which gives your doctor a better view of your retina, optic nerve, and other internal eye structures. Optomap® dilation-free retinal imaging allows your doctor to conduct a comprehensive retinal exam with no dilating drops needed (not available at all locations*).

CONTACT LENS EXAMS
If you wear or want to start wearing contact lenses, you'll need a contact lens exam and fitting as well as a standard eye exam. A contact lens exam includes special tests to measure your pupil and iris, map your cornea, and evaluate your tear film. Contact lens wearers also have their eyes checked for any damage or changes contact lens use may have caused.
Optomap® Eye Exams
*Eye exams with Optomap® retinal imaging are available at the following locations: Elm Grove, Milwaukee (Layton Ave), Franklin, Greenfield, Pewaukee, Racine (Douglas Ave), Janesville, Madison (Odana Ave), and Appleton.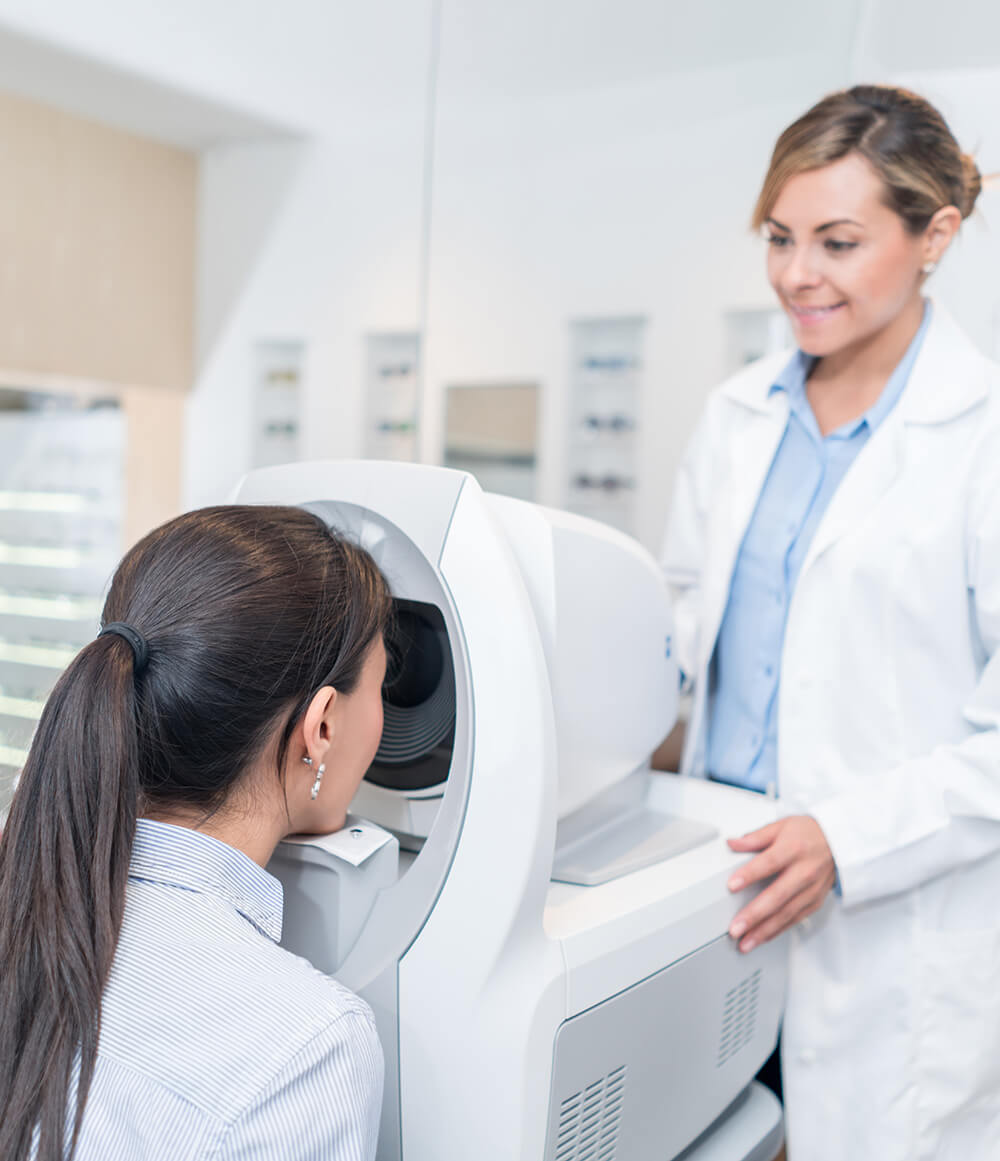 How Often Do I Need My Eyes Checked?
The American Optometric Association recommends the following guidelines for people with no signs of eye or vision problems:
Age
Eye exam frequency
6 - 24

MONTHS

First exam at 6 months*
2 - 5

YEARS

At age 3, and again before starting 5k
6 - 18

YEARS

Once a year
19 - 60

YEARS

Every 1-2 years or as recommended by doctor
60+

YEARS

Once a year
*For children younger than 3, please contact us for a referral
If any of the following are true, please schedule an eye exam right away:
Your last eye exam was over 2 years ago
You use computers, phones or other digital screens for extended periods of time
You occasionally experience headaches that blur your vision
You experience an increase in 'floaters,' spots or bright flashes
You experience chronic pain, redness, dryness, itching, discharge or irritated skin around the eyes
You've received an injury to the eye or eye area
Personalized eye exams & optometry care
Eye exams at Wisconsin Vision in Menomonee Falls combine state-of-the-art equipment with caring, experienced eye doctors. During your eye exam, we'll explain the procedures, answer your questions and recommend personalized vision solutions based on the results.
Eye exam services include:
Visual acuity tests
Examination of external & internal eye structure
Glaucoma & cataract screenings
Treatments for eye infections, injuries, allergies, dry eyes & digital eye strain
Preventative care for eye health disorders
General health concerns including high blood pressure, diabetes and side effects from medications can affect the health of your eyes. Regular eye exams protect your vision and prevent complications down the road. When in doubt, get your eyes checked!
Eye exams for kids
We provide affordable eye exams for toddlers and children ages 3 & up (for infants or toddlers under 3 please contact us for a referral).
Back to school eye exams in Menomonee Falls
State law requires all Wisconsin schools to request children have a comprehensive eye exam from an optometrist or ophthalmologist before starting kindergarten. The same law also requires optometrists and doctors to work to reduce or waive the cost of childhood eye exams for parents who might have difficulty paying.
Learn more about children's eye exams and check out our special offers including discounted pricing on eye exams.
Eye exams for seniors
Older adults are at a higher risk of vision loss and some eye diseases. Comprehensive eye exams help detect problems early so they can be treated sooner. Our optometrists provide affordable eye exams for seniors and take Medicare Part B for vision care.
Eye exam insurance coverage
Wisconsin Vision in Menomonee Falls accepts most vision plans including VSP. Your vision insurance covers routine eye exams and may pay for part of your eyeglasses or contact lenses if needed. Flexible spending accounts can be used to pay for eye exams and eyewear.
If you have a medical condition affecting your eye health (such as pink eye, glaucoma or macular degeneration) your medical insurance may also be billed. We're happy to do an insurance check and explain your benefits.
Eye exams without insurance
Many of our patients don't have vision insurance and are still able to afford regular comprehensive eye exams. We'll always explain your best options, with or without insurance. You can also use CareCredit for eye exams and eyewear at all Wisconsin vision locations, with interest-free financing for up to a year.
We offer special pricing on eye exams without insurance.
Eye Exam Fequently Asked Questions
Is a standard eye exam at Wisconsin Vision affordable for families?
Yes, our Wisconsin Vision stores offer affordable comprehensive eye exams for children, adults, and patients with special needs. For specific eye exam pricing details, contact our Menomonee Falls store today.
Are walk-ins accepted at the Menomonee Falls location?
Walk-in patients are only accepted if there is available time around scheduled patients. We are always accepting new patients, ensuring you see an eye doctor the same day you come in it is recommended you schedule an appointment online.
How long does a kid's eye exam take?
A kid's eye exam typically lasts between 20 and 30 minutes. If their eyes need to be dilated to make the tests easier, the exam may take a little longer.
How can I prepare my child for a pediatric eye exam?
You first need to let them know the eye doctor is there to help them, the eye doctor will do their best to make sure the child is comfortable and discuss any concerns they have. Then, try explaining the basics of an eye exam in plain language, take the complicated names out of the tests and make them easy to understand. Make sure to encourage them to ask questions. If you don't know the answer, the eye doctor will be happy to answer it during the exam. If they wish, they can bring their favorite toy or stuffed animal for support.
Does Wisconsin Vision's Menomonee Falls location offer Telehealth services?
We are working on implementing Telehealth capabilities at all our Wisconsin Vision locations. Unfortunately, our Menomonee Falls location does not yet offer Telehealth eye exams.